November 9, 2018
Dayton publishes book on World War I American poetry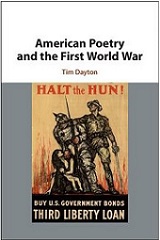 Tim Dayton, professor of English in the College of Arts and Sciences, has published "American Poetry and the First World War" with Cambridge University Press.
In his book, Dayton connects the poetry of the period to the political and economic forces that brought America into the war.
"Poetry provided a significant way for people to imagine the First World War. Since the war was the beginning, in some ways, of establishing American global power, poetry was a way for people reconcile themselves to, and occasionally contest, the price to be paid for that power," said Dayton.
Published this year to coincide with the 100th anniversary of the end of World War I, Dayton's book is the first of three related research projects on the First World War.
The second project, "The Cambridge History of American Great War Literature and Culture," is a co-edited volume with Mark van Wienen (Northern Illinois University) and will be published next year with Cambridge University Press.
The third project is an open-access digital archive of "American Poetry of the First World War." The online archive will include poetry written by soldiers and civilians on the war front and the home front for publication in newspapers, magazines, and books.