November 6, 2018
KSDB, Collegian and Channel 8 News to host election coverage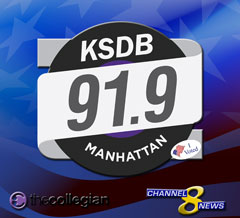 KSDB, in partnership with The Collegian and Channel 8 News, will provide up-to-date coverage on local, state and national races beginning at 7 p.m. Tuesday, Nov. 6. Tune in to 91.9 FM or stream live from anywhere at ksdbfm.org.
Local issues such as the 66th and 67th District races will be covered, as well as the USD 383 bond issue and the Pottawatomie County Commission 1st District. State races being covered will include contested congressional districts, state treasurer, secretary of state and attorney general positions, as well as the gubernatorial race. KSDB also will cover races across the nation, such as the Texas Senate race between Beto O'Rourke and Ted Cruz.
In addition to the election updates, KSDB will facilitate political commentary surrounding the contested races.