October 19, 2018
Leibrock to present 'Residential Design for Health and Longevity'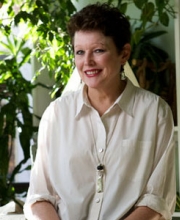 The College of Architecture, Planning & Design through the interior architecture & product design department will host Cynthia A. Leibrock, MA, ASID, Hon. IIDA, at 4:30 p.m. Friday, Oct. 19, in Regnier Forum, Regnier Hall.
Leibrock will present "Residential Design for Health and Longevity."
Leibrock is an award-winning author, international lecturer and designer with more than 35 years of experience. Her mission is to improve the lives of older and disabled people through design. She is the principal/founder of Easy Access to Health LLC in Livermore, Colorado, which offers consulting services in health care design, planning for independent living, product analysis and judiciary witness services. Prominent projects include the Betty Ford Center, the UCLA Medical Center, automotive interior design for Toyota and a universal design exhibit for the Smithsonian Institution with Julia Child. She has completed a universal design showroom for the Kohler Company — training more than two million consumers — and a "living laboratory" in Fort Collins, Colorado, for research into the environmental needs of older people.
Leibrock offers keynote presentations and workshops internationally, including multiple lectures for Fortune 500 companies. She has served as a lobbyist for people with mental disabilities and as a research associate on the dean's staff at Colorado State University, conducting health care design research in Scandinavia, northern Europe and Japan. She is author of "Design Details for Health: Making the Most of Interior Design's Healing Potential" (Wiley, 2010) and "Beautiful Barrier Free: A Visual Guide to Accessibility" (Wiley, 1997), and co-author with James Evan Terry of "Beautiful Universal Design" (Wiley, 1999). She has twice been awarded the Polsky Prize for literature.