February 16, 2018
Parker performs and lectures at Composition in Asia conference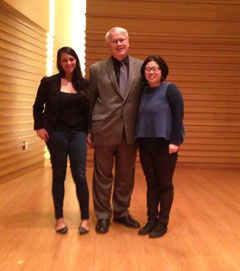 Craig B. Parker, School of Music, Theatre, and Dance, was a featured performer and lecturer at the Composition in Asia second International Symposium and Festival at the University of South Florida in Tampa.
On Jan. 19, he gave the world premiere of "Dear Mummy and Sister," a composition for trumpet, soprano, and piano written by Korean composer Young Jo Lee and dedicated to Parker. Assisting performers were soprano Jumi Kim, Fairfield, California; and pianist E. J. Choe, Indianapolis.
On Jan. 21, he performed "Jhula Jhule" for trumpet and piano by Indian-American composer Reena Esmail, who was a visiting composer at K-State in fall 2017. The collaborative pianist was Ko Eun Lee, Asheville, North Carolina.
Parker also presented his paper, "Japanese Elements in the Compositions of Alan Hovhaness," at the conference on Jan. 20.