February 13, 2018
Student art exhibit launches Living Democracy Project at K-State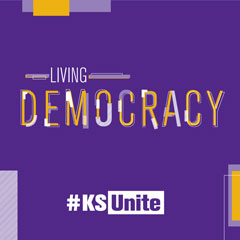 At the beginning of February, the K-State Prairie Fire Printmakers teamed up with other art students to create a series of 18x24 screen-print posters addressing issues of democracy, freedom, diversity and unity. The artists behind this project aim to inspire inclusivity, respect and improvement among the K-State family and Manhattan community.
This exhibit is contributing to the conversation of Living Democracy, a program that helps students explore civil discourse, social justice and democracy. The prints will be on display at the William T. Kemper Art Gallery, in the K-State Student Union, beginning at 11 a.m. Tuesday, Feb. 13. The space will promote discussion around the issues and remain as a backdrop for future events.
A reception is scheduled from noon to 2 p.m. Friday, Feb. 16, at the William T. Kemper Art Gallery. Join the discussion and meet the artists behind this project.
Find out more information about the Living Democracy Project at K-State.