October 25, 2017
Boeing Executive and Kansas State University alumna Leanne Caret to speak at College of Business Administration's Distinguished Lecture Series
Submitted by Brent Fritzemeier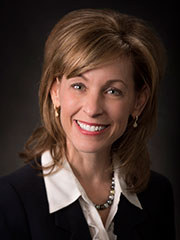 Leanne Caret, executive vice president of The Boeing Company and president and chief executive officer of defense, space and security, or BDS, will be the fall 2017 speaker for the Kansas State University College of Business Administration's Distinguished Lecture Series.
The lecture will begin at 9:30 a.m. Tuesday, Oct. 31, in the K-State Business Building Lecture Hall. The event is free and open to the public.
Named BDS president and CEO in February 2016, Caret leads the $30 billion business that provides integrated solutions to meet the needs of defense, government, space, intelligence and security customers in the United States and around the world. Countries with a major BDS presence include Australia, the United Kingdom, India and Saudi Arabia.
Previously, Caret was president of Boeing's global services and support, an industry leader in providing sustainment solutions for Boeing and select non-Boeing platforms. Before that, she was chief financial officer and vice president, finance, for BDS. Earlier she was vice president and general manager, Vertical Lift, responsible for business growth and program execution for a portfolio of cargo, tiltrotor and attack rotorcraft. Caret joined the company in 1988 and has held various program management positions in the defense business.
Caret holds a Bachelor of Science degree in accounting from Kansas State University and a Master of Business Administration degree from Wichita State University. She also earned certifications from Harvard University in the Program for Leadership Development and the International Security Defense Program, and completed the Integral Leadership Program at the University of Notre Dame.
Caret is a member of the St. Louis University board of trustees. She also serves on the council of trustees for the Association of the United States Army, the board of directors for the Center for a New American Security, an organization focused on developing national security and defense policies, and the board of directors for the Business-Higher Education Forum, a group of leaders dedicated to creating a highly skilled future workforce.
The Kansas State University College of Business Administration Distinguished Lecture Series brings successful business professionals to campus to share their knowledge and experience. Lectures are given every semester and are sponsored by Commerce Bank and the William T. Kemper Foundation.