October 10, 2017
Sukkot Solidarity Dinner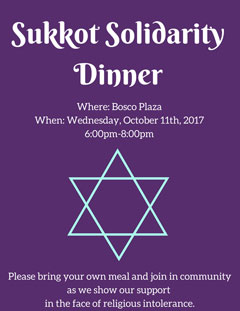 The Jewish community is celebrating Sukkot, an eight-day holiday. As part of the holiday, a Sukkah is constructed and meals are shared inside with one another. Recently, the Sukkah, constructed on the Manhattan campus by Hillel, was vandalized. The K-State family and surrounding community want to make two things explicitly clear:
Hate and religious intolerance have no home here.
The Jewish community is welcomed and loved.
K-Staters will gather at 6 p.m. Wednesday, Oct. 11, on Bosco Student Plaza and walk together to the Sukkah — behind Goodnow Hall. There will be a few speakers at the event, but it mostly will be a time to gather in community with one another and eat. Please pack a meal and join us.
Please uphold Jewish custom. If willing, avoid pork and do not consume both meat and dairy together, one or the other is fine. This is an interfaith event regardless of belief system; all are welcome.
If you have any questions, contact Jess Girdler at jgirdler@k-state.edu.