October 18, 2017
K-State alumna to present 'Advocating for Gender Equity, Peace and Sustainable Development'
Submitted by Communications and Marketing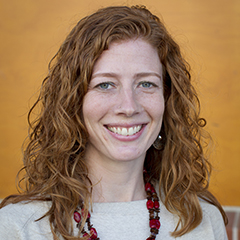 Summer Lewis is returning to her alma mater to give the talk "Advocating for Gender Equity, Peace and Sustainable Development: Notes From a Wildcat in the Field" at 5:30 p.m. Wednesday, Oct. 25, in 13 Leasure Hall. This presentation is open to all.

As an undergraduate studying sociology, Spanish and women's studies at K-State, Lewis was drawn to social movements, fair trade ideals and community development projects abroad. She was passionate about her studies, but wondered if and how they would pay off in the "real world." Fifteen years later, Lewis has gone on to travel, work and study around the globe, building a successful career in international development across various sectors: from the field, to the classroom, to her own consulting firm.

During her talk, Lewis will reflect on her academic and professional journey — weaving together stories from her work in economic development, gender equity, and peace and conflict resolution — and offering advice to those looking to make a positive impact in the world.

Lewis is an international development consultant and educator, with more than 15 years of academic and professional experience in the coffee value chain, fair trade, gender equity, and peace and conflict resolution. She earned a Bachelor of Arts in Spanish, sociology and women's studies in 2005. Lewis was selected as a Rotary Peace Fellow and completed a Master of International Studies, Peace and Conflict Resolution at the University of Queensland, Australia in 2012, focusing her studies on the connection between economic development and peace.

Lewis is the co-founder of True Roots, a consulting firm specializing in the planning, assessment and impact measurement of social responsibility initiatives in the Global South. As a consultant with True Roots, she provides the tools and guidance for donors and nonprofit organizations to carry out community development projects effectively, efficiently, and respectfully. At present, Lewis supports the Rotary Foundation and the Institute for Economics and Peace with coordination, monitoring and evaluation of programs promoting positive peace and conflict resolution. She also shares her knowledge and experience with K-State students, piloting two new online courses: International Development and Women and Globalization.

Since serving as a Rotary Peace Fellow, Lewis has collaborated with Rotarians and other Peace Fellows to advance Rotary's mission of world understanding, goodwill and peace through service and humanitarian projects. She has participated in many Rotary events worldwide as an invited speaker, including the 2014 Rotary International Convention in Australia, the 2015 Rotary International Peace Symposium in Brazil, and the 2016 Rotary World Peace Conference and the 2017 Rotary International Presidential Peace Conference, both in the U.S. She was featured in the article "Cultivating Peace" in The Rotarian, the official publication of Rotary International.

Originally from Manhattan, Lewis has spent more than half her life abroad, working, living and traveling across 31 countries and six continents. Currently based in Oaxaca, Mexico, Lewis also is returning to K-State to accept the 2017 College of Arts and Sciences Alumni Merit Award.