May 8, 2012
Read the latest letter from A.D. John Currie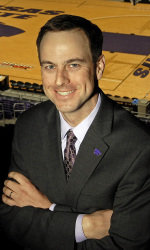 K-State Nation,
After a very productive set of Big 12 meetings and Fiesta Bowl events in Phoenix, it is great to be back in Manhattan!

Friday was a historic day for the Big 12 as current Stanford Athletic Director Bob Bowlsby was introduced as our new conference commissioner. I believe this is a tremendous coup for the Big 12 and am grateful for the leadership and diligence shown by President Schulz, Oklahoma State President and Big 12 Chairman Burns Hargis and the other selection committee members in making it happen.

Bob Bowlsby is one of the most respected athletics leaders in the country and has played an instrumental role in the transformation of the Pac-12 Conference over the last several years. In addition to his success as Stanford's AD, he has deep Midwest roots having previously served for many years as athletic director at Iowa and Northern Iowa, while his transcendent skills are illustrated by his role as a member of the board of directors of the United States Olympic Committee.

Meanwhile Acting Commissioner Chuck Neinas led our ADs, coaches and SWA meetings in his normal steady and wise fashion. Commissioner Neinas has done and continues to do a great job of aggressively moving the Big 12 forward. We had excellent conversations about many topics, including of course the future of postseason football and the BCS, television, alignment and membership, and the potential implementation of a student-athlete miscellaneous expense allowance among others.

This was the first time in several years that we have had in-person meetings together with our football, women's and men's basketball coaches. The format is for each coaches group to meet amongst themselves to discuss various issues and then each group comes in and meets with the ADs and reports on their discussions. As Commissioner Neinas pointed out to our media and bowl partner guests at our Monday night dinner, this year the Big 12 had the national champion in women's basketball, Baylor; the runner-up in men's basketball, KU; and the "third"-place football team, Oklahoma State. As I looked around the room during each respective head coaches meeting, it is hard to imagine a conference with more highly accomplished coaching leadership and competitiveness than the Big 12. Of course I consider our K-State head coaches to be the best of the bunch!

Finance update
There have been several recent national articles regarding the tremendous progress we have been able to make at K-State over the last three years. ESPN.com ran an article on Friday that focused on the positive financial status achieved thanks to the great performances of our student-athletes and coaches, the leadership of President Schulz and the generosity and loyalty of our donors and fans, as well as the continued careful stewardship and hard work of our coaches and staff.

It is important to remember that as a private, nonprofit 501(c)(3) corporation we have annual financial statements prepared by external auditors using Generally Accepted Accounting Procedures. Mark-to-market accounting requires that we include unrealized gains such as growth in our endowment's market value as well as show capital pledges as accounts receivable and thus revenue in our annual statement. For example, if a donor pledged $100,000 to be given over five years at $20,000 per year for the basketball training facility, the Generally Accepted Accounting Procedures rules require us to include the present value of the entire $100,000 as current year revenue, even though we actually only receive $20,000 in that particular year.

On the other side of the ledger, our actual expenses are adjusted for the annual statement as well. For instance, any time we complete an athletic facility improvement, the value of that improvement rolls off the books of K-State athletics onto the books of the state of Kansas – even though K-State athletics has the legal/financial responsibility to maintain and operate the facilities – so when we completed the $650,000 installation of the new infill AstroTurf field surface at Bill Snyder Family Stadium last year, that physical improvement transferred to the state, and in turn, $650,000 was deducted from the expense column of our audited financial statement. As we've discussed previously these various debits and credits combined to give us a final audited financial statement result of a $23.39 million surplus. However, the actual operating cash surplus for the 2010-2011 fiscal year was $3.67 million.

My lovely CPA wife can attest that I have reached the limit of my ability to explain the intricacies of accounting rules and policies, so let's switch to the practical side of this discussion and talk a little more about what this all means for achieving K-State's vision of a model intercollegiate athletics program.

It's definitely a lot more pleasant to talk about a surplus than a deficit, and achieving a positive run of financial statements is a huge advantage for K-State in achieving our short- and long-term goals.

Here are seven examples of what your role in helping K-State achieve this positive trend means, and how those dollars are being invested:

1. Kansas State University's annual direct support of intercollegiate athletics, already among the lowest of peer schools, was reduced this year from $1.5 million to $1 million, enabling that $500,000 to be redirected to areas of critical academic need by President Schulz and Provost Mason. By the 2015 fiscal year this direct university support line item is scheduled to be completely eliminated.

2. This year alone we have directly impacted our student-athlete experience with more than $3 million in incremental facility improvements. For example, to get ready for the Big 12 Outdoor Championships we've invested about $375,000 in our track facilities. For the safety of our student-athletes and horses we rebuilt our outdoor equestrian riding arena surface to the tune of about $100,000. And Ahearn Field House is getting a $60,000 fresh interior coat of PURPLE paint, covering up the longtime and mysterious red/brown hues of the seating area. It's going to look awesome for our volleyball matches and indoor track meets, as well as for the Kansas State University sesquicentennial celebration next winter!

3. Our goal of championship athletic performances is enhanced by the ability to attract, retain and reward great coaches. For instance we've been able in the last few months to increase our football assistant coaches salary pool by 20 percent, while we also have among the most innovative and aggressive coaches performance incentive programs in the country for our assistant coaches across all sports.

4. We've been able to fast-track our major capital projects like the Basketball Training Facility and the West Stadium Center thanks to our ability to secure low interest long-term bonds as we continue our private fundraising efforts. Thanks to your support we have planted our flag firmly in the realm of major college athletics, with $100 million in across-the-board athletic facility improvements under way!

5. Our commitment to fiscal responsibility includes anticipating major multimillion dollar deferred maintenance projects such as eventually replacing the roof of Bramlage Coliseum or rebuilding the deteriorating east stadium parking lots. We also have to plan for increased annual operating costs associated with new facilities like the Basketball Training Facility or the 250,000 square foot West Stadium Center.

6. Both our fans and student-athletes and their families are benefiting from the $500,000 high-definition infrastructure investment that helped us launch K-StateHD.TV last August in conjunction with the university's Division of Communications and Marketing. K-StateHD.TV has become the No. 1 premium institutional digital network in the country this year, and our production and distribution have drawn rave reviews from our fans, fellow institutions and even our television partners.

7. And finally, but most importantly, your gifts have enabled us to offer tremendous everyday support toward a world-class experience for all 444 Wildcat student-athletes, be it academic support, sports medicine treatments, weight training and quality travel and competition experiences, while we have maintained or increased resources for our coaches in their national and international recruitment efforts.

Grass-roots support is the K-State winning edge
Keep in mind that the statement we have been discussing – and the national folks keep writing about – was last year's! As we enter the final two months of the 2012 fiscal year our season ticket sales and Ahearn donations are on pace for another fine finish, but know that our fans' dollars are important and needed to continue this positive momentum. Look what those $50 Ahearn memberships, season, single and group ticket purchases are adding up to and making possible, and be proud of your role in making great things possible for the K-State Nation!

Thanks for all that you do for our student-athletes!
Go Cats!
John Currie