October 5, 2017
Couple and family therapy staff to present for Domestic Violence Awareness Month
Submitted by College of Human Ecology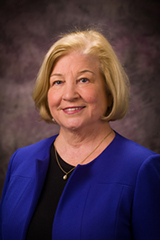 Sandra Stith, university distinguished professor of couple and family therapy, will present alongside Chelsea Spencer, doctoral candidate in couple and family therapy, at 7 p.m. Tuesday, Oct. 10, at the Manhattan Public Library. Stith and Spencer will present "Understanding Risk Factors and Motivations for Intimate Partner Homicide: A Research Review: in the library's Groesbeck Room.
This lecture is one of many events hosted by Manhattan's Crisis Center during the month of October.
Stith has been researching domestic violence for more than 30 years. For the past 20 years, she has dedicated her research to assisting the U.S. Air Force and other Department of Defense branches with family violence prevention and treatment.
Stith and Jared Anderson, associate professor of couple and family therapy, were recently awarded a $2.2 million USDA-NIFA grant to assist the USAF Family Advocacy Program to develop and assess services to support United States Air Force families and to reduce partner and child maltreatment.
"Our main goal is mission readiness," Stith said. "An airman cannot perform his/her military mission to the best of their ability if there are problems in the home. We work with USAF Family Advocacy leadership to create and develop programs to prevent partner and child maltreatment."
The grant will fund Stith and her team of research assistants, in addition to research partners from other universities, through August 2019.