September 21, 2017
'Hamilton' actor to speak at K-State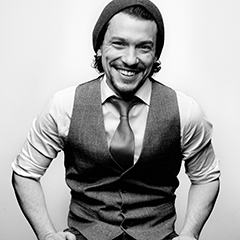 The Chicago star of the critically acclaimed "Hamilton: An American Musical" will visit Kansas State University in October in honor of Hispanic Heritage Month.
Miguel Cervantes, who plays Alexander Hamilton, not only represents the musical production but speaks on behalf of Citizens United for Research in Epilepsy, or CURE, because his and his wife, Kelly's, 1-year-old daughter, Adelaide, was diagnosed with the seizure disorder.
Cervantes is donating all proceeds from the sale of his new single, "'Til the Calm Comes," to CURE, and he spoke about epilepsy when he appeared on The Today Show in July with fellow Hamilton cast members.
At K-State, Cervantes' talks will focus on his experiences with the musical.
"I plan to speak about how it came into my life and changed it," Cervantes said. "I also want to talk about how it has changed the culture of theatre and art and how it challenges others to begin creating."
Cervantes will host a lecture from noon to 1:30 p.m. Monday, Oct. 2, in the Alumni Center Ballroom. The event will include a Q&A session, and Cervantes also will entertain the audience with a couple of songs, he said. To guarantee a seat, pick up a free ticket Sept. 25-29 at the Office of Diversity, 224 Anderson Hall.
"Bringing Miguel, who is a prominent actor and a philanthropist, is an opportunity to dismiss negative Latino stereotypes and acknowledge the positive contributions of Latinos in the U.S.," said Mirta Chavez, director of multicultural programs and services for the Office of Diversity.
The Office of Diversity, the Hispanic American Leadership Organization, the Marianna Kistler Beach Museum of Art, K-State Libraries, the Student Governing Association, the Office of the Provost, and K-State Theatre in the School of Music, Theatre, and Dance are hosting Cervantes' visit.