May 4, 2012
K-State alumni honor family with scholarship in department of economics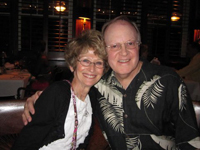 When he first came to Kansas State University more than 40 years ago, Jim Haymaker was amazed by the welcoming atmosphere. But it was a trip to Paris during his junior year that changed his outlook on his future, and by the time of his graduation in 1969 he had a clear vision of his career path.
The encouragement and support he received in the K-State department of economics stayed with him as he continued his education. He earned a master of business administration at the University of Chicago and joined Cargill, where he built a 38-year career at home and abroad. He retired as corporate vice president of strategy and business development in 2011.
Haymaker and his wife Kathy — whom he met at K-State — live in Edina, Minn., and have supported the university in many capacities. Recently, they established the James and Kathryn Haymaker Family Economics Scholarship, which will be endowed to provide financial support for students for generations to come. Jim Haymaker recently shared thoughts on his K-State experience, what it means to help students and the importance of philanthropy.
What was your experience like at K-State?
I was a member of Beta Theta Pi, which was a great group of guys and a positive, formative experience. I studied abroad in Paris during my junior year. It was a defining experience in my life, second only to meeting and marrying my wife Kathy. It helped me realize that I wanted to pursue a career in international business and my abilities in foreign languages were better than I thought! When I returned to K-State from Paris, I added a major in French.
What do you love about the university?
I was immediately struck by the friendliness of the people. That was a standout attribute of the university. And I felt like I received a very good education there both on the language side and on the economics side. When I went to the University of Chicago to earn my MBA, I faced some stiff competition, but I felt that my K-State degree had prepared me well.
What was your inspiration for creating this scholarship?
I received credit at K-State for the studies I completed at the University of Paris, but I still had to rush to catch up when I returned. I had some great professors and received wonderful support from the department of economics. I felt there was a lot of camaraderie in the department.
Later on, department head Bill Blankenau recruited me to serve on the department's advisory council, and I came to find out that the department didn't have as much scholarship funding as others on campus. The economics program at K-State puts out a lot of good business people, entrepreneurs and specialists in many industries, and I felt there was an opportunity to provide expertise, leadership and resources to help the department move ahead.
I'm also concerned about access to higher education. There are far too many young people who can't go to the school they want to attend — for one reason or another — and they end up going elsewhere or stopping their education altogether. If more funds were available there'd be more access for some of the best and brightest students to come to K-State.
Why is philanthropy important?
Beginning that journey of giving back is a very fulfilling thing. There's a great feeling in giving back. We are fortunate to have the means to do so, and that's a result of our own education. Not everyone can give a full scholarship — but every donation has an impact. We encourage others to study the process of gifting and how to do it within your means. Learn to develop that spirit of giving — it's a real help to K-State and to its students.