May 3, 2012
Alumnus names scholarship at K-State for hero who saved his life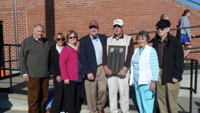 As we progress through life from childhood and adolescence to young adulthood and beyond, our idea of a hero likely goes through phases: Superman jetting across the sky; an athlete whose victories inspire greatness; a teacher or coach who moves us with their words and actions; a parent who helps guide us through life's bumpy roads. As we grow up, we grow out of those childlike interpretations of heroism and become champions for those who truly make an impact in our lives.
Then there are the stories like that of John Eplee, who at the age of 20 found himself drowning while supervising a float trip at one of his fondest places on earth, the Mill Dam on the Fall River in Fredonia.
A fresh-faced, newly certified Red Cross water safety instructor, Eplee was full of life — and water — before Homer Holmes, a local teacher, coach and well-respected community member, rowed into the spinning, thrashing current and pulled him to safety on dry land.
Following that incident, Eplee went on to graduate from K-State in 1975. He continued his education at the University of Kansas School of Medicine, completed his residency in Wichita, and has enjoyed a career as a family physician in Atchison for more than 30 years.
Inspired by the events of that fateful day — and the Fredonia community that put them on the path to success — Eplee and his siblings have established the Homer Holmes Hero Scholarship, which will provide an incoming freshman from Fredonia with the opportunity to attend K-State.
Holmes, who still lives in Fredonia and, at 78 years old, is still a fixture in the local community, was surprised with news of the scholarship at the Fredonia Relays on April 20 — nearly 40 years following the float trip that set the story in motion.
"I was sincerely surprised and greatly pleased when told publicly that the Eplee family scholarship was being endowed in my honor — I am very humbled to be remembered by this scholarship," Holmes said. "It is a real pleasure to know that students from Fredonia High School will benefit from the Eplee's generosity, and I look forward to presenting the scholarship to the first recipient on May 8."
John Eplee recently shared thoughts on the experience and the different ways one can be a hero. What a remarkable story.
What does this mean to you and your family?
I've never really known how to thank Homer for saving my life and giving me my future for which I am so blessed. How does one do so? I don't know if you ever can. This really has a lot of different meanings, though. My brother, sister and I have wanted to do something like this for a long time; it's a way for us to also thank the Fredonia community for its dedication to getting the three of us educated and on to K-State.
As I considered the importance of this scholarship, I reflected on the many great teachers and coaches who had a very positive influence on all of us. All of these people are heroes. This is a modest and humble way of saying thank you to Homer for saving my life and paying it forward for Fredonia students for many years to come.
How has K-State had an impact on your family?
All three of us attended and graduated from K-State. My sister, Kay, graduated in 1959 and became successful in marketing, and now real estate, in the Kansas City area. My brother, Harvey, graduated in 1969. He went on to become a dentist and recently retired as dean of students at University of Missouri-Kansas City's School of Dentistry. I graduated in 1975 and became a family physician in Atchison, where I've been for 30 years.
K-State is where my family's heart is. We're diehard fans and very committed to K-State and its vision for young people throughout Kansas. We all had our own wonderful experiences and want to share that with others through recognizing Homer with this scholarship. It means everything to me to be able to recognize him in this way and recognize K-State, which means so much to me and my family.
What does it mean to be heroic?
When we were young, people stepped up and gave us opportunities. It's about giving that same opportunity to others, to those who might not otherwise be able to afford college. It's about providing them with the chance to have the same experiences that my family enjoyed. But I wouldn't be able to do this without Homer. I'll be forever indebted to him. We hope that this can make a difference for a very long time, if not forever.