May 1, 2012
Winners announced for the 2012 President's Award of Excellence for Unclassified Professionals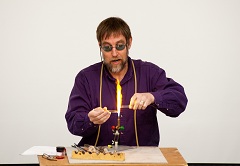 Four staff members are receiving the 2012 President's Award of Excellence for Unclassified Professionals. Each winner receives a $1,000 award and recognition at a reception hosted by President Schulz.
Today we spotlight the recipient of the Productivity/Creativity/Innovation Award, James R. Hodgson, senior scientific glassblower in the chemistry department. He was nominated by Eric A. Maatta, department head of chemistry.
Hodgson is a scientist, an artist and a highly skilled craftsman. He fabricates a variety of technical equipment, saving colleagues tens of thousands of research dollars each year through his ability to create custom scientific glassware from mostly stock parts. Hodgson not only creates items for colleagues in other departments across the university, he also has provided service to other Kansas Regents universities, other Kansas agencies, the Midwest Research Institute, the USDA, the University of Nebraska, Oklahoma State University, South Dakota State University, University of South Carolina, University of Missouri, Northeastern University and more.
According to Maatta, Hodgson is an asset to the chemistry department in particular and is an ambassador for the university in general. He routinely goes above and beyond and does so with an encouraging, welcoming demeanor coupled with a rare degree of expertise and professionalism.