April 10, 2017
U.S. national academician to discuss genetically engineered crops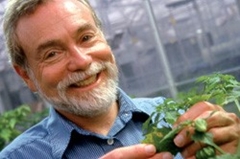 Fred Gould, member of the U.S. National Academy of Sciences and chair of its recent report on the safety and future of genetically engineered crops, will present the Hopkins Colloquium Address, "Elevating the discussion of Genetically Engineered Crops" at 4 p.m. Tuesday, April 11, in 231 Waters Hall. All are invited, and light refreshments will be served.
Gould chaired the committee for the National Academy of Sciences that developed the 2016 report, "Genetically Engineered Crops: Experiences and Prospects."
Read more about Gould on the U.S. National Academy of Sciences website.
The Hopkins Colloquium was established in 1998 to honor Theodore L. Hopkins, professor emeritus of entomology, for his many contributions to the science of entomology. The award supports the visit of a distinguished scientist working in an area of current importance and interest, and who will bring new and important research in entomological science to the department and university.