February 27, 2017
Bhattacharya wins 2017 Outstanding Book Award from international research association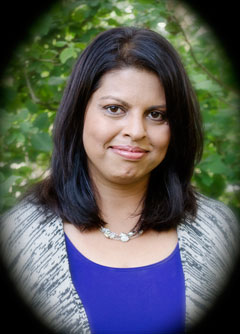 A College of Education faculty member's book on qualitative research received the 2017 Outstanding Book Award from the International Congress of Qualitative Inquiry, or ICQI.
Kakali Bhattacharya, associate professor of educational leadership, co-authored "Power, Race, and Higher Education" with Norman K. Gillen, her former graduate student. They will be presented with the award at the association's conference in May at the University of Illinois, Urbana-Champaign.
The award is given annually to an ICQI member of the qualitative and ethnographic community who has published the English-language book that best represents an important contribution to qualitative inquiry. Applications are judged by criteria that signify a major contribution to the study and practice of qualitative approaches, such as success in experimenting with new or traditional writing forms, inclusion of critical reflections on the writing and research process, contributions to living meaningful lives, and insights into creating a socially just world.
David C. Thompson, professor and chair of the department of educational leadership, said the award elucidates Bhattacharya's standing in the qualitative research community.
"To have been awarded such a distinction is not only rare but to have received it under such competitive conditions is extraordinary," Thompson said. "Dr. Bhattacharya's reputation as a rigorous qualitative researcher is wide in both national and international circles."
Bhattacharya is humbled that her book was selected for the award.
"To have my first book received this well by senior colleagues — all of the members of the review committee are seasoned full professors of qualitative methods — is something I did not even dare to imagine," Bhattacharya said. "I am still in a bit of shock and am deeply humbled because there were several worthy books nominated for this award."