November 23, 2016
Photography professor chairs session at Southeastern College Art Conference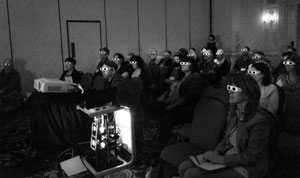 Rebecca Bahlmann, assistant professor of photography in the art department, chaired a themed session at the Southeastern College Art Conference in October, hosted by Virginia Tech's School of Visual Arts, Architecture and Urban Studies in Roanoke, Virginia.
The session, "Vision Machines and Pre-Cinematic Optical Devices: Panoramas, Stereoscopes and Places of Otherness" included a silver screen with polarised 3D glasses. The theme converges on Bahlmann's research interests in optical devices such as the stereoscope and its social and anthropological implications for society in the 19th century — and possibly today.
Bahlmann's co-chair was Simonetta Moro, director of the Institute for Doctoral Studies in the Visual Arts. The panel included four artists and scholars interrogating a change in vision and perception that took place when these devices first emerged, and might be taking place again today.
Bahlmann also is writing a book on artists who employ such devices in their works. Serving as co-chair of this panel helped her meet and discuss issues surrounding this emerging field. Bahlmann is completing her doctorate at Chelsea College of Art.