November 18, 2016
K-State China Office celebrates 10 year anniversary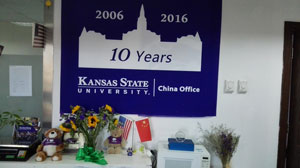 The Office of International Programs concludes the 2016 International Education Week with the 10th anniversary celebration of the K-State China Office opening in Beijing.
K-State's China office hosted a reception Nov. 12 to celebrate. Former staff, partners and representatives from the American States Association in China attended the reception.
With the insight and foresight from the leadership of K-State's central administration and the efforts of James Lewis, former international admissions and recruiting director, and Jack Xia, director of the China Office, the first U.S. university-country recruiting office was founded in Beijing in 2006.
The K-State China office thanks the central administration and the Office of International Programs for its support, encouragement and coordination.