November 9, 2016
Provost's Distinguished Lecture Series presents Haroon K. Ullah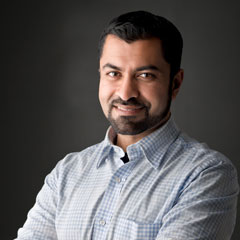 Haroon K. Ullah, international scholar, diplomat and field researcher specializing in South Asia and the Middle East, will be the speaker for the Provost's Distinguished Lecture Series from 11:30 a.m. to 12:30 p.m. Thursday, Nov. 10, in Forum Hall at the K-State Student Union.
Ullah's lecture kicks of the 2016 K-State International Education Week presented by the Office of International Programs.
Haroon has a doctorate in political science and public policy from the University of Michigan and was a William J. Fulbright fellow, a Harvard University presidential scholar, a National Security Education Program fellow and a Woodrow Wilson Public Service fellow. He also is the author of "Vying for Allah's Vote," "The Bargain From the Bazaar: A Family's Day of Reckoning" and his upcoming book "Digital Rebels."
"I am incredibly humbled and honored to be considered as the presenter for this visit and this distinguished presentation at Kansas State. Thank you so much for your time and consideration," Ullah said.
Laurence A. "Lorn" Clement Jr., associate professor of landscape architecture and regional & community planning; Sara Thurston, director of International Student and Scholar Services; and Mary K. Pyle, assistant director for international support in the Office of International Programs, submitted a proposal to the provost's office in spring 2016, and were successful in receiving funding to present Ullah.
"His message is one of creating understanding and appreciation for various cultures and building community; very much a core value of our university," Clement said.
"He has direct current and continuing experience on Mid-Eastern culture to share. He is a masterful storyteller and we are thrilled for him to address our K- State community," said Thurston, who has met Ullah on several occasions.
Ullah recently returned from Morocco after two months of travel in the Middle East, working on his upcoming book "Digital Rebels."
"We are impressed with Haroon's diverse background and enriching international experience as he is very knowledgeable about an area of the world that is most concerning to all of us," said Grant Chapman, assistant provost of international administration. "The more that we can do to educate and inform our community of key global issues and present them in a thoughtful dialogue, the more we are adhering to our mission of internationalizing the campus."