October 31, 2016
Engineering Academic Success Center collaboration earns Best Paper Award at American Society for Engineering Education Conference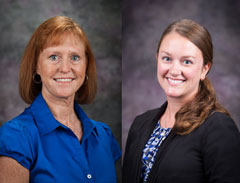 Mary Vesper, advising coordinator, and Emily Dringenberg, teaching assistant professor, both from the Engineering Academic Success Center, tied for first place for Best Paper at the American Society for Engineering Education Midwest Conference Sept. 25-27.
The paper, "The Implementation and Preliminary Impact of Intrusive Advising and an Academic Peer-Mentoring Program for Engineering Students," reported on efforts related to retention within the K-State College of Engineering.
To increase retention, the college created an Academic Success Center focused on providing multiple services for all of its students. A new position, Academic Success Center advisor, was created at the center to provide multiple resources to all engineering students.
The advisor created an academic peer mentoring program called Building Excellent Engineers to address and meet the needs of engineering students who may need the extra support. For students who received intrusive academic advising and participated in the Building Excellent Engineers program, there was evidence of increased academic achievement and an increase in retention rates, as compared to the college and university. Preliminary analysis of this program suggests that academic peer mentoring paired with intrusive advising can be a useful tool to support and retain engineering students.
Results of the Building Excellent Engineers program during the initial launch in fall 2015 yielded a 98 percent retention rate within the university and an 89 percent retention rate within the college.
In spring 2016, the program resulted in a 97 percent retention rate for the university and a 93 percent retention rate within the college. Future implementation of the program will focus on developing more comprehensive strategies for supporting first-year engineering students.
For more information or questions, contact Vesper at mvesper@k-state.edu.