October 24, 2016
Journalism student to attend Biotech University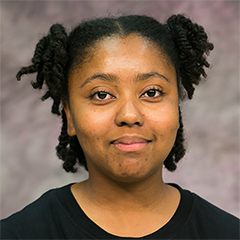 Students from around the country will gather at Arizona State University's Walter Cronkite School of Journalism Oct. 28 to attend Biotech University and learn about the science of biotechnology. Among them will be Safiya Woodard, a senior in the A.Q. Miller school of Journalism and Mass Communications.
Biotech University is a one-day seminar and reporting contest for collegiate journalism students. The goals of Biotech University are to educate collegiate journalists about the science of biotechnology, to introduce them to the techniques reporters use to cover biotechnology and to explore how agriculture employs biotechnology. The seminar includes sessions at a research laboratory and a nearby farm.
Woodard was awarded a scholarship to attend Biotech University through the Kansas Soybean Commission. A total of four awards from across Kansas were available to students at all five major Kansas universities. The scholarship covers all expenses for awardees including travel to and from Arizona State University's campus.
Students who attend Biotech University get the chance to enter a competition. In this competition, students have a few weeks to create multimedia content about biotechnology in order to win either $1,500 or a trip to an international biotech conference in another country.
In summer 2016, Woodard worked as an intern in K-State's Office of the Vice President for Research where she produced videos promoting federally funded research, then submitted them to the National Science Foundation for distribution.
Woodard is currently working in the College of Education's Catalyst Technology and Media Services assisting in the production of several documentary videos.