October 20, 2016
Megan Niederwerder one of top five finalists in Young Investigator Award competition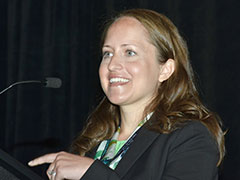 Megan Niederwerder, assistant professor in the diagnostic medicine and pathobiology department and K-State Veterinary Diagnostic Laboratory, was recognized in July at the Merial–National Institutes of Health National Veterinary Scholars Symposium as a finalist for the 2016 Young Investigator Award, co-sponsored by the American Veterinary Medical Association and the American Veterinary Medical Foundation.
Niedwerder was selected on the basis of her research, "Microbiome associations in pigs with the best and worst clinical outcomes following coinfection with porcine reproductive and respiratory syndrome virus (PRRSV) and porcine circovirus type 2 (PCV2)."
The Young Investigator Award is given to graduate veterinarians pursuing or having recently completed advanced research training through doctoral or postdoctoral programs. Niederwerder was one of the top five finalists out of 36 applicants who were selected by a panel of researchers at the host school and who presented their research at the symposium.
"To be recognized as a veterinarian in research by the AVMA was a tremendous honor for me," Niederwerder said. "It was truly a privilege to be selected as a finalist for the Young Investigator Award and have the opportunity to present my work on the swine microbiome to veterinary students from around the country. I have received overwhelming support and mentoring from the members of our department and college. As a young investigator and new faculty member, I am grateful for this support and was thrilled to represent Kansas State University at the symposium."
Niederwerder also was invited to participate in the Burroughs Wellcome Fund "Becoming Faculty" Workshop. The symposium and workshop was hosted at Ohio State University.