October 18, 2016
Burrack receives Wartburg Alumni Citation Award
Submitted by Frederick Burrack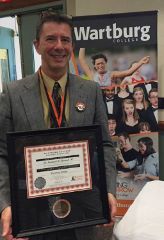 Frederick Burrack received the Wartburg College Alumni Citation Oct. 16. He graduated in the class of 1981 with a bachelor's degree in music education.
The award from the Wartburg College alumni board recognizes scholarship, mentorship and leadership in the areas of music education assessment and teacher preparation in the state of Kansas and across the country.
Burrack is currently co-chair of a team of researchers from across the country developing and piloting Model Cornerstone Assessment for the National Standards for Music Education, and is director of assessment at K-State.