October 6, 2016
Outstanding geography alumna to present 'Adventures in Geography — Northview to Worldview'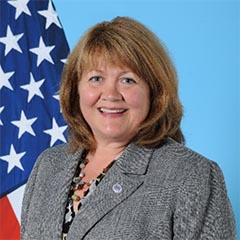 The geography department's 2016 Outstanding Alumni Award recipient Cheryl L. Blake will present "Adventures in Geography — Northview to Worldview" at 3 p.m. Friday, Oct. 7, in the Leadership Studies Building's Town Hall.
An award ceremony will take place immediately following the presentation.
"We are pleased to welcome Ms. Blake back to campus to share her expertise in the field with our students and faculty," said Amit Chakrabarti, interim dean of the College of Arts & Sciences.
Since July 2014, Blake has served as deputy chief of the National Geospatial-Intelligence Agency Support Team to U.S. Africa Command, charged with providing timely, value-added geospatial intelligence to command security engagements, military-to-military engagement programs, and military operations in support of U.S. security interests and a stable and secure Africa.
From 2010-2013, Blake was deputy chief of the economic security division within National Geospatial-Intelligence's Analysis Directorate — the focal point for geospatial intelligence analysis regarding energy, industry, transportation infrastructure and environmental issues. Previously, she served as deputy chief of the New Start Treaty at U.S. Joint Forces Command in Norfolk, Virginia. Working closely with command staff and the military services, she was part of a team that addressed policy, training and procedures to improve joint warfighter access to geospatial intelligence.
"In addition to her fine career in the field of geospatial intelligence, Cheryl has made tremendous contributions to the department through her work with our alumni advisory board and has been a longtime supporter of the department," said Chuck Martin, head of the geography department.
This event is sponsored by the Beta Psi chapter of Gamma Theta Upsilon, the international geographic honor society, and the geography department.