October 3, 2016
Noted hydrologist speaks tonight about 'Water, Food and Energy'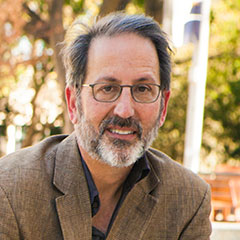 A hydrologist who monitors the world's water supply using NASA satellites says even with recent heightened awareness, global water security is at greater risk than is generally recognized.
Jay Famiglietti will give a talk titled "Water, Food and Energy: Interwoven challenges to sustainable resource management" as part of the Henry C. Gardiner Global Food Systems Lecture Series at 7 p.m. Oct. 3 in McCain Auditorium.
Admission to the talk is free but interested persons are encouraged to arrive early.
Famiglietti is a senior scientist at NASA's Jet Propulsion Laboratory in Pasadena, California, and a professor at the University of California-Irvine. He said that 20 of the world's 37 major aquifers are being depleted, including the Ogallala Aquifer in western Kansas.
"The common issue in over half of the world's major aquifers is that we use more water than is available on an annual renewable basis, primarily for food production, and we make up the shortfall from groundwater," he said. "Another common feature is poor management of groundwater. Consequently, many aquifers, such as those in India, the Middle East, and China are being depleted at a very rapid pace."
"I really focus on the surprising disappearance of groundwater, not just in the American Midwest and in California, but around the world," Famiglietti said. "I firmly believe that global water security is at greater risk than is generally recognized. I also try to encourage faculty and graduate students to get engaged locally, and to work hard to communicate their key results."
Using satellites to monitor water on Earth, Famiglietti and his team develop computer models to track how freshwater availability is changing all over the world.
"We are learning much about how patterns of water storage and freshwater availability are changing," he said. "We hope to develop a very deep understanding of how large scale water management practices like groundwater pumping and reservoir storage are impacting climate, whether they are sustainable, and what the environmental consequences might be."
Famiglietti's lecture also will be streamed live at, k-state.edu/globalfood/lecture-series, beginning at 7 p.m. Kansas State University also will be tweeting live from the event, using the hashtag #GlobalFoodSystems.