September 26, 2016
Bradshaw receives scholarship, technology award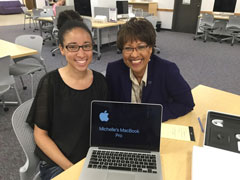 Michelle Bradshaw, sophomore in elementary education, Jetmore, is this year's recipient of a prestigious scholarship and technology award designed to help her become the best educator possible.
Doris Wright Carroll, College of Education associate professor of special education, counseling and student affairs, presented Bradshaw with an Apple laptop on Sept. 20 in the college's Catalyst Center.
Carroll said the recipient of the Doris Wright Carroll Multicultural Technology award receives the Lawrence G. Wright scholarship. The latter scholarship is in honor of Carroll's father, Lawrence G. Wright, a retired human resources officer for the Santa Fe Railroad in Topeka. The purpose of both scholarships is to enhance opportunities for students with diverse backgrounds, and Carroll quickly realized that successful students needed access to all of the tools possible, especially a computer.
"When selecting our recipient, we look for the ideal combination of need but also passion and commitment to the field of education, and clearly Michelle is the perfect candidate," Carroll said.
Bradshaw was surprised and humbled at the award.
"Honestly, I was just very grateful," Bradshaw said of learning she was selected as the Wright scholar. "Money is tight for everybody, and every little bit helps."
Bradshaw grew up Jetmore, a community of 850 and graduated from Hodgeman County High School in 2015. She always looked forward to helping her two younger sisters with their homework so teaching seemed like a natural choice.
"I've always enjoyed helping people, especially with my sisters' homework because it was something I was really passionate about and really enjoyed," Bradshaw said. "My area of concentration is special education, and I want to help kids with special needs because I think they can be easily overlooked."
Upon graduation, Bradshaw hopes to work for Manhattan-Ogden USD 383 while pursuing a master's degree, then return to Jetmore to teach. Carroll quickly attempted to recruit Bradshaw to the college's counseling program, Carroll's area of expertise.
Bradshaw said she hopes to convince her younger sisters to attend K-State, but it may not require much recruitment at all because her family already has significant ties to the university.
"My uncle is Charlie Dickey, the offensive line coach for the Wildcats, and we've been coming here to games for years, so I already felt like I was part of the K-State family by the time I enrolled freshman year."