September 21, 2016
Voice of the Utah Jazz and K-State alumnus to visit K-State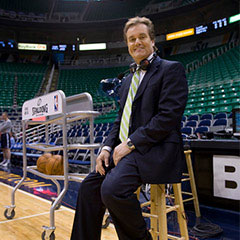 Craig Bolerjack, voice of the NBA's Utah Jazz and K-State graduate, will be back on campus to visit with students from the A.Q. Miller School of Journalism and Mass Communications on Monday, Sept. 26.
Bolerjack will be featured in an interview by the sports staff of KSDB Radio and in several classrooms. He also will be the featured guest at a Sports Student Roundtable Sept. 26 in the Dole Hall lobby.
Bolerjack graduated from Shawnee Mission Northwest High School. While at K-State, he worked as sports director for the campus radio station KSDB-FM. He began his television broadcast career as a weekend sports anchor for KTSB-TV Topeka — now KSNT — before taking a similar position at KSL-TV in Salt Lake City, Utah.
Currently an announcer for FOX Sports working mostly college football and college basketball games, Bolerjack has called NCAA, NFL and NBA games for CBS, ESPN, Fox College Football and CBS College Sports Network in a national broadcasting career that dates back to the late 1990s.
Bolerjack also is an alumni member of Delta Upsilon's K-State chapter.
For more information about Bolerjack's visit to campus, contact Tom Hallaq, assistant professor, at thallaq@k-state.edu.