September 15, 2016
Roberts and Malek elected to international association for hospitality educators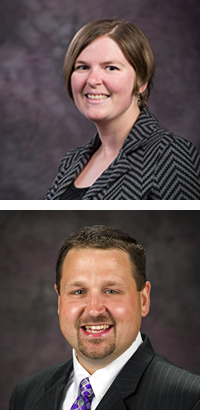 Two hospitality management faculty were nominated and elected to the International Council on Hotel, Restaurant and Institutional Education's Central Federation board at the council's 2016 annual conference.
Kevin Roberts, associate professor and interim department head of hospitality management, was elected the director of education and Kristin Malek, assistant professor of hospitality management, was elected director of networking.
The council is the only collegiate hospitality association that is inclusive of all hospitality facets including hotels, restaurants, events, cruises, clubs and spas. The hospitality management department has an institutional membership and Roberts and Malek will be the first elected members of the Central Federation board from K-State.
At the council's annual conference, industry awards are bestowed and faculty present their research to other educators. While most conferences are purely research based, this association brings industry and research together.
As director of education, Roberts will be in charge of programing for the annual regional conference, including bringing in qualified guest speakers and organize panels, roundtables and more. He will be in charge of all educational aspects and will develop content with the director of research. Roberts excels in educational programming, as evidenced by his continual invitations to be involved with teaching sessions and on panels. He will represent the central region on the national committee.
Malek will take on the role of director of networking, utilizing her skills from being conference director for the regional conference last year. She will lead all activities related to policy development, marketing, budgeting and execution of the regional convention. Malek excels in meeting planning and networking, and also will represent the central region on the national committee.