August 25, 2016
K-State Alumni Association announces Homecoming theme: 'Growing Up Purple'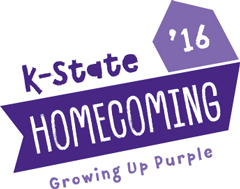 The K-State Alumni Association and Student Homecoming Committee announce this year's All-University Homecoming theme: "Growing Up Purple."
Kansas State University's 2016 Homecoming Week will take place Oct. 16-22. The week marks K-State's 101st Homecoming celebration. Kansas State University students, alumni, families and friends are invited to participate in the events and activities.
"Homecoming is about coming home to family," said Andrea Bryant Gladin, director of alumni programs for the K-State Alumni Association. "That's what makes this time of year so special. For many of our alumni and friends, K-State has been a part of their lives since childhood. That long tradition was the inspiration behind this year's Homecoming theme: 'Growing Up Purple.'"
Greek chapters, residence halls and student organizations interested in participating in Homecoming are invited to attend the All-University Homecoming meeting at 6:30 p.m. Monday, Aug. 29, at the K-State Alumni Center. Learn how to get involved in Homecoming Week activities such as Pant the Chant, Wildcat Request Live, the Homecoming parade and more.
All K-State Homecoming events are open to the public. For the most updated information, visit the homecoming website.