May 11, 2016
Kansas State Polytechnic named No. 2 college in the nation for unmanned aircraft systems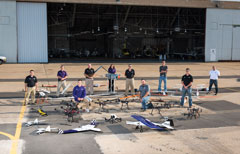 The unmanned aircraft systems, or UAS, program on Kansas State University's polytechnic campus continues to add to its national presence with a new top academic ranking.
Kansas State Polytechnic has been named No. 2 in the "Top 20 Unmanned Aerial Systems Colleges in the United States." The list was compiled by Drone Training HQ, an online resource for unmanned pilots, engineers and technicians, and was based upon a variety of criteria, including reputation, hands-on instruction, accreditation, courses and programs offered, student feedback and job placement.
"This ranking rewards nearly 10 years of persistent hard work on multiple levels, ranging from locally to internationally," said Kurt Barnhart, associate dean of research on the polytechnic campus and executive director of the school's Applied Aviation Research Center. "At the outset of 2007, there were relatively few who dared to dream about what UAS could become in Salina, but here we are. We are grateful to those who have supported our endeavors and have helped us make the program a success. These achievements, however, are only the beginning."
The program's second place ranking comes against universities such as Indiana State University, University of North Dakota, Oklahoma State University, and Kent State University. Embry-Riddle Aeronautical University landed the list's No. 1 spot.
Kansas State Polytechnic's UAS program was launched in response to the devastating EF5 tornado that destroyed 95 percent of Greensburg, Kansas, in 2007. The storm prompted state legislators to provide first responders and emergency managers with the necessary tools to effectively locate survivors and assess damage. As part of their plan, they allocated funds to Kansas State University to start an unmanned aircraft systems program that would work to improve disaster response and public safety using that technology.
A few classes related to unmanned aircraft were offered on the polytechnic campus beginning in 2009 and then a UAS certificate was established in 2010. The next year, Kansas State Polytechnic implemented a bachelor's degree — only the second in the nation at that time — and then 2015, an additional bachelor's degree was added in UAS design and integration, along with a UAS minor. Also, the program's enrollment has doubled almost every year since its inauguration.
To learn more about Kansas State Polytechnic's unmanned aircraft systems program, including enrollment, degree options and research, contact Kurt Carraway, acting executive director of UAS, at 785-826-2624 or kcarraway@k-state.edu.