April 12, 2016
K-State Freedom Alliance hosts supply drive on campus for homeless/trafficked youth
Submitted by Alexandria Kieffaber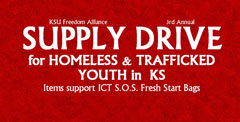 During the week of April 11-15, K-State Freedom Alliance is hosting the third annual supply drive for ICT S.O.S. Items collected will support the ICT S.O.S. Fresh Start bags. Four drop-off box locations are available on campus: K-State Student Union near the copy center, Leadership Studies Building, Derby Dining Hall and Van Zile Dining Hall.
View a list of items online or pick up a flyer at any of the drop-off boxes.
Since 39 percent of homeless are youth and one in three homeless youth are approached by a trafficker in the first 48 hours of being on the street, we want to help youth in Kansas from being exploited by aiding ICT S.O.S. ICT S.O.S. is a Wichita-based organization that acts as a liaison between specific local professional organizations who work with trafficked youth and volunteers who seek ways to get involved and to find solutions.
Each Fresh Start Bag is tailored for a specific gender and size and is labeled so that officers, advocates and social workers can easily grab what they need and when they need it, without having to scramble to piece together what a victim may need. The contents were decided based on input from police officers, child and sexual abuse victim advocates and social workers.
For more information about Freedom Alliance, visit ksufreedomalliance.org.