April 4, 2016
APDesign's design+make studio project awarded design build award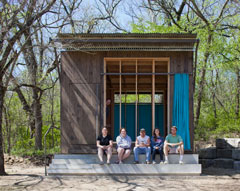 Kansas State University's College of Architecture, Planning & Design's design+make studio project at Camp Daisy Hindman won the Association of Collegiate Schools of Architecture 2016 award in the Design Build category.
The shower facility at Camp Daisy Hindman for the Girl Scouts of Northeast Kansas and Northwest Missouri is the work of consecutive fifth-year graduate level design+make architecture studios in collaboration with the Kansas City-based architecture firm, el dorado inc.
Each year, the association honors architectural educators for exemplary work in areas such as building design, community collaborations, scholarship and service. This year, the award went to David Dowell, architecture department studio consultant, AIA and principal with el dorado inc. in Kansas City, Missouri. According to the association, "award winners inspire and challenge students, contribute to the profession's knowledge base and extend their work beyond the borders of academy into practice and the public sector."
The Camp Daisy project was created over a two-year period with one studio designing the site plan and building structure, and the next year's studio designing, fabricating and installing the interior components and reconfigurable exterior furniture. The goal was to replace a defunct swimming pool and outdated bathing facilities on the Girl Scout campsite outside of Dover.
The shower facility includes eight showers, four changing stalls and storage cubicles for 50 girls. A 40-inch long continuous shower pan allows a flexible arrangement of showers. Great attention was paid to the interior quality of light as well as the development of a subtle but rich palette of materials and colors. For all students involved, the sustained focus required was a lesson in extended continuity, exposing them for the first time to the sense of temporality in the creation of architecture.
This studio explores conceptually driven, expertly crafted architecture at all scales of work, with all types of clients and in all locations. Students follow a four step process, experiencing the challenges of seeing their projects come to fruition in a real-world setting: understanding, envisioning, documenting and making.