March 8, 2012
Baroque Masterpieces: Eva Amsler, flute, and Shalev Ad-El, harpsichord, to perform concert Thursday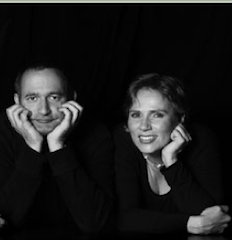 On Thursday at 5:45 p.m. in All Faiths Chapel Auditorium, world-renowned musicians Eva Amsler, flute, and Shalev Ad-El, harpsichord, will present an evening of Baroque masterpieces. The program will include works by Telemann, W.F. Bach, Corelli, J.S. Bach and C.P.E. Bach. This event is free and open to the public and is sponsored by the Academic Excellence Fund and the department of music.
On Wednesday, Amsler and Ad-El taught classes to K-State students on the topics of body awareness and injury prevention and flute and keyboard style and technique.
Amsler, a professor of Flute at Florida State University, previously served on the faculty of the State Conservatory of Music in Feldkirch, Austria, teaching flute, pedagogy, and chamber music. She conducts master classes in Europe, the United States and Asia. In addition, Amsler was a member of the St. Gallen Symphony Orchestra in Switzerland for 20 years. A pioneer on the wooden flute, she organized a worldwide series of concerts with The Dorian Consort, of which she is a founding member, and has played various flutes in specially created concerts of new music with the ensemble ENIF – aktuelle Music. Her concert activity as soloist and chamber musician has brought her together with performers such as Aurèle Nicolet, Barbara Schlick, and the Carmina Quartet. Amsler's CD recordings have been released on the Ambitus and Cavalli labels, and her performances have been broadcast in Switzerland, Austria, Germany, Scandinavia and the United States.
Shalev Ad-El was born in Israel in 1968. He has quickly developed a reputation as one of Europe's most sought-after continuo players. As recipient of the AICF scholarships, he graduated from the Royal Conservatory of The Hague and won the first prize at the François Shapira Competition in 1987. He is a regular member of Il Gardellino in Belgium, and The Dorian Consort in Switzerland, Stadivarius Soloists of the Berlin Philharmonic and the music director of Accademia Daniel in Israel. As a soloist he has played with most of the leading orchestras in Israel including the Israeli Philharmonic Orchestra, the Israeli Chamber Orchestra, the Haifa Symphony Orchestra, and the Kibbutz Chamber Orchestra. He has made numerous radio and TV recordings, both as a conductor and as a harpsichordist, and has given recitals and masterclasses throughout Europe, the Far East, South and Central America, Australia and the United States. Ad-El has recorded more than 70 CDs for labels such as Chandos in Great Britain; Denon in Japan; Accent, Eufoda and Klara in Belgium; Unacorda in Spain; Stradivarius in Italy; CPO, RAM, Ambitus and HR in Germany; and Koch International in the U.S.