March 7, 2012
Noted violinist Madeleine Mitchell to perform March 12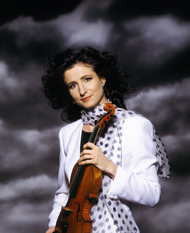 International guest artist Madeleine Mitchell will present the violin recital, "100 Years of British Music," from 7-30-8:30 p.m. Monday, March 12, in All Faiths Chapel. Admission is free and she will sign copies of her latest CD following the recital.
A professor at the Royal College of Music in London, Mitchell has been described by The Times of London as "one of the U.K.'s liveliest musical forces and foremost violinists." For the recital, she will be partnered by pianist Slawomir Dobrzanski, chair of keyboard studies at K-State.
Mitchell was a distinguished Fulbright/ITT fellow to New York in the 1980s. She earned a master's degree at the Eastman School, studying with Donald Weilerstein and Sylvia Rosenberg, and at Juilliard and Aspen with Dorothy DeLay. She has performed as a soloist and chamber musician in more 40 countries and been nominated for BBC Music and Grammy awards for her albums.
She is the founder and artistic director of the Red Violin Festival in Wales, an eclectic festival of all things violin, including classical, fiddling, Indian and jazz use of the instrument. The festival was begun under the patronage of Lord Yehudi Menuhin.
Mitchell was invited to make K-State a stop on her 2012 U.S. tour by Cora Cooper, professor of violin at K-State.
"Madeleine and I were classmates at Eastman 30 years ago, and haven't seen each other since," Cooper said. "We tried to connect when I was in London during my sabbatical last spring, but the timing didn't work out. So our 30-year reunion will happen in Manhattan instead."
The recital's music spans the last century. It features late romantic gems of Elgar, Alwyn and Delius – for his 150th anniversary in 2012 – and the iconic "The Lark Ascending" by Vaughan Williams, which Mitchell has performed with the St. Petersburg Philharmonic and Czech Radio Orchestras. She also will perform pieces specially written for her by some of the U.K.'s best known composers. Among them are Michael Nyman, an Oscar-nominated composer; James MacMillan; and Nigel Osborne and his solo essay "Taw-Raw," which Mitchells recorded on "In Sunlight: Pieces for Madeleine Mitchell."
The program also includes works by Frank Bridge, a viola player who wrote many salon pieces. Mitchell has recorded seven of these works together with Elgar on her widely acclaimed album "Violin Songs." She also will perform "Morceau Caracteristique," a more virtuosic piece, which premiered in 1908 but was then lost for 100 years until Mitchell discovered the manuscript at the Royal College of Music.
More information about Mitchell is available at http://www.classical-artists.com/madeleinemitchell and you can hear her some of her performances at http://www.youtube.com/ViolinClassics.