March 5, 2012
From the lunchroom to the dining hall: Shugart lecturer to look at future trends in onsite food service industry
Submitted by Communications and Marketing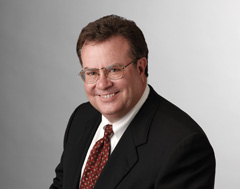 What does the future hold for the school cafeteria, college food services, the executive dining room and other segments of the noncommercial food service industry?
That topic will be explored by John Lawn, editor-in-chief and associate publisher of Food Management magazine, at the 38th Grace M. Shugart Lecture. Lawn will present "The Future of Noncommercial Food Service: Trends and Innovations" at 1:30 p.m. Thursday, March 29, in Forum Hall at the K-State Student Union. It's sponsored by the department of hospitality management and dietetics, a part of the College of Human Ecology, and is open to the public.
"Because of his position, John constantly monitors trends in the noncommercial – or onsite – segments of the food service industry," said Jeannie Sneed, head of the department of hospitality management and dietetics. "He visits many operations and with many operators. He has his fingers on the pulse of the food service industry and can share exciting trends and opportunities with our students, faculty and alumni."
Lawn has been editor-in-chief of Food Management magazine since 1995. The national, monthly business magazine is published by Penton Media Inc. and reaches 47,000 food service operators in the noncommercial segments of the food service industry. Under his leadership, the magazine has won many editorial awards, including two American Business Press Neal Awards for Journalistic Excellence – the highest honor in the trade press.
A recognized authority on a wide range of food service issues, Lawn is a frequent speaker to industry groups. He has been active in many industry organizations, currently serving on the Industry Advisory Committee of the Society for Food Service Management. He also has worked closely with food service manufacturers, distributors, brokers, contract organizations and operator groups to develop stronger partnerships with their respective customer and supplier communities.
Lawn was recognized in 2008 with the President's Award from the National Society for Healthcare Foodservice Management for his contributions to the organization. He also has received numerous awards for his writing and photography from the American Business Press, the America Society of Business Press Editors, the Cleveland Press Club, Society for Technical Communications, Women in Communications and more.
Lawn earned a bachelor's in English and minor in psychology from John Carroll University in Cleveland, Ohio.
The Grace M. Shugart Lecture Series brings dietitians, food service and hospitality experts to Kansas State University for the enrichment of student curricula and to provide continuing education for practitioners in the field. Established in 1975, the lecture series honors the late Shugart, former department head and co-author of "Food for Fifty" and "Food Service in Institutions." Shugart helped build the profession of dietetics and institutional management throughout the United States, serving as president of the American Dietetic Association. She also was a Medallion Award winner and received the Marjorie Hulsizer Copher Award, the American Dietetic Association's highest honor.