March 2, 2012
Film Series at the Beach to feature 'Until the End of the World' Sunday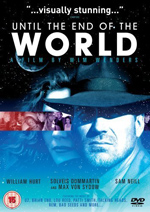 Join us on Sunday for a free film showing sponsored by the Beach Museum of Art and Movies on the Grass.

Attendees will be treated to "Until the End of the World," starring William Hurt, Solveig Dommartin, Sam Neill and Max Von Sydow. The showing will begin at 4 p.m. in the UMB Theater in the Beach Museum of Art. The movie has a running time of 151 minutes.
German director Wim Wenders's masterpiece vision of the near future, filmed in Europe, China and the Australian outback, explores philosophical and moral questions related to seeing, dreaming, and remembering while also providing the excitement of the ultimate road movie. One of the most celebrated film scores of the 20th century, with music by U2, Brian Eno, Lou Reed, Patty Smith, Talking Heads, REM, Bad Seeds and more!
Sandwiches, snacks, and beverages will be offered for sale by Bluestem Bistro just before the screening, throughout the first half of the film, and during a 20-minute intermission.
Call 785-532-7718 for more information.