February 11, 2016
K-State research on swine disease featured as debut cover art on American Society for Microbiology journal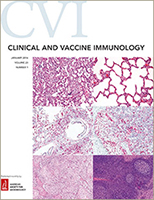 Purple and lavender patterns are common at Kansas State University and are now part of the debut cover art for an international academic journal thanks to a team of swine disease researchers.
Megan Niederwerder, assistant professor in the diagnostic medicine and pathobiology department and the Kansas State Veterinary Diagnostic Laboratory in the College of Veterinary Medicine, was the lead author on an article about vaccination and infection of two porcine viruses in the December 2015 issue of Clinical and Vaccine Immunology, also known as CVI. Images from this article were selected as cover art for the January 2016 issue, marking the first time the journal had featured photography on its cover.
"This work is very interesting as it details how a widely used porcine reproductive and respiratory syndrome virus, or PRRSV, vaccine can potentiate disease caused by another widely distributed virus of pigs, porcine circovirus type 2, or PCV2," Niederwerder said. "This has particularly important field applicability in swine herds lacking a consistent PCV2 vaccination program. Several individuals from K-State were involved in this project. In addition, Mal Hoover, our college's certified medical illustrator, was instrumental in revising the cover photo for the journal specifications. It is truly an honor to have the journal select our work to be featured as their inaugural cover image."
Co-authors included Bhupinder Bawa, Benjamin R. Trible, Maureen A. Kerrigan and Raymond "Bob" Rowland from K-State; Joan K. Lunney from the U.S. Department of Agriculture's Agricultural Research Service; and Nick V.L. Serão and Jack C.M. Dekkers, all from the animal science department at Iowa State University.
"We started featuring cover art to give CVI a new, colorful and bright image that would reflect our renewed enthusiasm, desire to grow and better serve our readers," said Marcela F. Pasetti, editor-in-chief of the journal. "This is one of several new initiatives that CVI will be launching this year to highlight significant advances and timely topics of scientific and public interest in the fields of vaccine and clinical immunology."