February 8, 2016
Join Noorjahan Akbar for 'Empowering Women to Lead Worldwide: Overcoming Political and Social Struggles'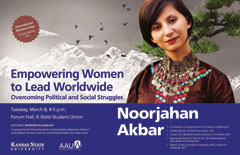 As part of International Women's Day, Noorjahan Akbar, co-founder of Young Women for Change, will speak to students at 4 p.m. Tuesday, March 8, in Forum Hall in the K-State Student Union. Facilitated by the American Association of University Women, and working alongside campus departments, Akbar will discuss, "Empowering Women to Lead Worldwide: Overcoming Political and Social Struggles."
During her visit at K-State, Akbar will meet with students, faculty, staff and administrators to share her insight and experiences. Her visit will include time with classes in the Staley School of Leadership Studies and women's studies department.
Akbar has been recognized as one of Forbes' Top 100 Most Powerful Women in the World and Newsweek Networks' One of the 150 Fearless Women Who Shake The World. She also received the Woman of Distinction Award from the American Association of University Women.
Akbar is a human rights advocate from Afghanistan and has dedicated herself to focusing on women's social and economic empowerment in Afghanistan and globally. Through her organization Young Women for Change, Akbar created a center for women and started a grassroots campaign for gender equality in Afghanistan. She has published articles in the New York Times, Al Jazeera English, and multiple Afghan newspapers, magazines and websites. Her blog for social justice in Afghanistan has more than 70 contributing writers from around the country. Akbar has a master's in journalism and public affairs from American University.
For more information on Akbar and her lecture, contact the Staley School of Leadership Studies at slsinfo@k-state.edu.