January 22, 2016
Faculty attend first international Wildlife Conservation conference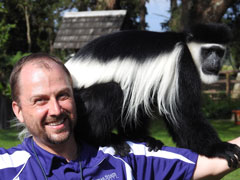 This month, Jeffery Skibins and Ryan Sharp traveled throughout Kenya in conjunction with the Human Dimensions of Wildlife conference.
The park management and conservation program is an official sponsor of the event and Skibins is serving on the advisory council. Both Skibins and Sharp presented research papers at the conference. Additionally, Skibins and Sharp met with several community conservation program leaders, including the Il Ngwesi EcoLogde and the Melako Conservancy program.
Developing these networks will provide opportunities to graduate and undergraduate students for research, travel courses and exchange programs.