January 20, 2016
Hallmark's Michael Gonzales to speak at College of Business Administration Diversity Lecture on Jan. 27
Submitted by Brent Fritzemeier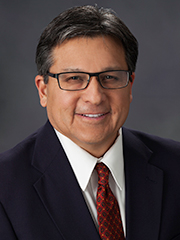 Michael Gonzales, leader of corporate diversity and inclusion for Hallmark, will be the spring 2016 speaker for the Kansas State University College of Business Administration's Diversity Lecture Series.
The lecture will begin at 10:30 a.m. on Wednesday, Jan. 27, in Forum Hall at the K-State Student Union. The event is free and open to the public
Gonzales is responsible for Hallmark's corporate diversity and inclusion strategies and direction, including internal and external collaborations, partnerships, support and compliance. He is responsible for the execution of all efforts regarding workforce, workplace, marketplace and community priorities, while overseeing the company's six employee resource groups.
Throughout his career, Gonzales has become skilled in the areas of building critical relations, innovation and resourcing, business collaboration, employee relations, diverse and cultural understandings, compliance metrics and program management. He saw a need for a diversity and inclusion collaborative which led him to co-found the Kansas City Diversity & Inclusion Consortium. Gonzales has partnered in creating a Hispanic college student mentoring program, and was responsible for the creation of Hallmark's Center for Diversity & Inclusion.
He is a frequent resource to fellow diversity and inclusion and human resource professionals from the business, non-profit and higher education communities on topics of diversity and inclusion and employee resource groups.