February 22, 2012
College of Education receives best practices award from national association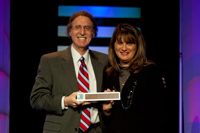 The American Association of Colleges for Teacher Education presented its 2012 Best Practice Award for Professional Ethics and Moral Dispositions in Teacher Education to Kansas State University's College of Education, Feb. 19, at the association's 64th annual meeting in Chicago.
The award, accepted by Debbie Mercer, associate dean, recognizes excellence in a school, college or department of education for illustrative and purposeful attention to professional ethics and moral dispositions in teacher education.
Michael C. Holen, dean and Skeen Professor in Kansas State's College of Education, said the foundation for this award had been cast many years earlier.
"Several decades ago, our faculty and school partners jointly crafted and implemented a conceptual framework emphasizing ethical, caring and respectful behavior as crucial components in our preparation of teachers and other school personnel," he said. "We are gratified to see our refinement of these elements of our program recognized by the profession."
The winning applicant was required, among many criteria, to describe the kind of professional educator the program or unit is trying to foster, within the context of education in a democracy; explain how dispositions and professional ethics enact values and relate to knowledge and skills; demonstrate how a clear theory and practice relate to the development of dispositions; and demonstrate the success or impact of the policies and practices on developing professional ethics and moral dispositions in teacher candidates.
K-State was selected because of its ability to provide clear coherence among vision, development, and assessment of dispositions across the unit. The review committee commended the College of Education for its in-depth approaches to showing solid integration of the focus of dispositions across categories that guide the program.