November 16, 2015
K-State hosts College and University Professional Association for Human Resources conference
Submitted by Learning and Development, Human Capital Services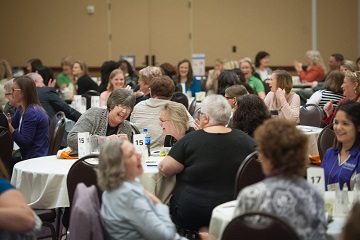 The Kansas chapter of the College and University Professional Association for Human Resources, or CUPA-HR, hosted its inaugural conference Oct. 28-29 at Kansas State University.
The event embraced the theme of "Connect," which enhances the chapter's mission of promoting excellence through collaboration among human resource professionals at institutions of higher education in the state of Kansas. There were 140 human resources professionals in attendance, which conference organizers deemed successful for the newly formed Kansas chapter. Attendance also included a number of sponsors and vendors from around the U.S. The conference included a keynote, legislative update, a variety of breakout sessions and an evening social at the Marianna Kistler Beach Museum of Art.
A number of K-State employees were involved in the planning, preparation and delivery of the conference including Shanna Legleiter, Human Capital Services and Kansas chapter president-elect and conference planning chair; Alma Deutsch, Human Capital Services; Kris Mauck, Human Capital Services; Connie Pfaff-Eickhoff, Human Capital Services; and Jan Carlson, Global Campus.
Breakout session presenters from Human Capital Services included Roberta Maldonado-Franzen, Cheryl Johnson, Cheryl Grice, James Johnson and Melissa Klein. Sheila Ellis-Glasper, from the Division of Communications and Marketing, and Sgt. Chad Jager, from the K-State Police Department, also presented breakout sessions.
K-State will host next year's conference and anyone who is interested is encouraged to save the dates of Nov. 9-10, 2016, and watch the Kansas chapter website for further information.