October 21, 2015
Goins wins prestigious Association for Recorded Sound Collections Award for Excellence for 'Blues All Day Long' biography
Submitted by Wayne Everett Goins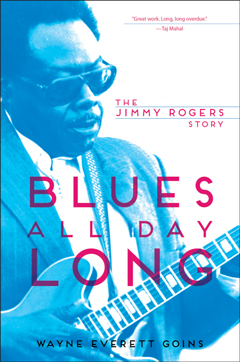 Wayne Everett Goins, K-State university distinguished professor of music and author of the biography "Blues All Day Long," has received the 2015 Association for Recorded Sound Collections Awards for Excellence in Historical Recorded Sound Research.
The awards are presented to authors and publishers of books, articles, liner notes and monographs, to recognize outstanding published research in the field of recorded sound. Through the awards, the association recognizes outstanding contributions, encourages high standards and promotes awareness of superior works.
Two awards may be presented annually in each category — one for best history and one for best discography. Certificates of Merit are presented to runners-up of exceptionally high quality. Goins published his blues biography on Chicago legend Jimmy Rogers in September 2014 with University of Illinois Press. Along with the 2015 association award, Goins will receive a special certificate, a one-year free membership to the association and will also be acknowledged at the awards ceremony when he attends the association's national conference in Bloomington, Indiana, in May 2016. Goins also recently won the 2015 Living Blues Magazine Award for Best Blues Book of the Year.