October 19, 2015
Third-year APDesign students win in regional competition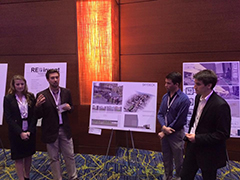 Students from the College of Architecture, Planning & Design's architecture department participated in the 2015 American Institute of Architects — Central States Regional competition Oct. 15-16 in Des Moines, Iowa.
Students were asked to design a prototype for the reinvention of the Seventh and Locust instance of the Des Moines skywalk system. This year was an ideas competition for the activation of the street level by the modifications of the skywalks. Program and use possibilities included urban farming, art, entertainment, infrastructure and transportation.
Third-year students from the department of architecture presented "Skydeck" to the panel of jurors and won third-place for their outstanding efforts.
Four students participated in the competition: Morgan Brown, Columbia, Missouri; Aaron Church, Hughesville, Missouri; Kristyn Garver, Albia, Iowa; and Peter Syzonenko, Bangor, Pennsylvania.
Assistant professor of architecture Christopher Fein served as advisor to the students.
Professor Matt Knox, department head for architecture, said, "I couldn't be more proud of our third-year students who were competing against fifth-year students from other design colleges from around the region. This is just one of many examples of the high quality of design education coming out of APDesign at K-State."