October 6, 2015
H&R Block chief marketing officer to speak at College of Business Administration's Distinguished Lecture Series
Submitted by Brent Fritzemeier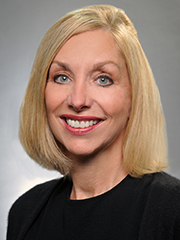 Kathy Collins, chief marketing officer for H&R Block, will be the fall 2015 speaker for the Kansas State University College of Business Administration's Distinguished Lecture Series.
The lecture will begin at 10:30 a.m. Wednesday, Oct. 14, in Forum Hall at the K-State Student Union. The event is free and open to the public.
Collins was named H&R Block's chief marketing officer in October 2013, after joining the company in January 2006 as vice president, marketing communications and brand management. As CMO, she is responsible for all brand-marketing capabilities, including consumer insights, advertising, merchandising, creative services, interactive marketing and media. She also is responsible for developing and implementing all retail tax strategies and programs across a number of consumer targets. She manages partnerships, sponsorships and cause marketing programs for the H&R Block brand. She also is responsible for corporate public relations and internal communications.
In October 2014, Collins joined the Ad Council board where she advises the council on national public service campaigns. Also in 2014, Fortune magazine recognized her as one of its Most Powerful Women NextGen Leaders and for membership in Fortune's MPW Insider Network. She is a regular contributor to this network of business leaders who share advice and ideas about careers, women in the workplace and the latest business trends.
Collins has extensive experience in marketing research and strategic brand development. Prior to joining H&R Block, she spent nearly 15 years at Lee Jeans, a division of VF Corporation. She is credited with launching the award-winning Buddy Lee campaign, which drove to a sales increase of 150 percent in two years. She also was one of several Lee employees who developed Lee National Denim Day, an award-winning cause marketing initiative that raises awareness and money for the fight against breast cancer. After 10 years, Lee National Denim Day raised more than $65 million and continues to be the largest single-day fundraiser for breast cancer in the world.
Her career in marketing began at Informix Software in Lenexa, Kansas, where she worked primarily on new product launches and public relations. She later worked with Microsoft's Bill Gates on the launch of the first Windows operating system.
Collins has a Bachelor of Science in business administration degree from Kansas State University and a Masters of Business Administration degree from Arizona State University. She is married and has two children.
The Kansas State University College of Business Administration Distinguished Lecture Series brings successful business professionals to campus. Lectures are given every semester and are sponsored by Commerce Bank and the William T. Kemper Foundation.