October 8, 2015
National 4-H Week student feature: Garrett Kays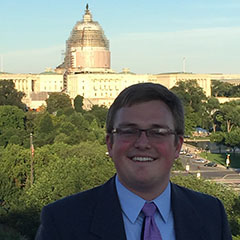 For all members, present and past, 4-H will always hold a special place in their hearts. For these 4-H alumni, the program gave them important life skills that they plan to use for many years to come. Join K-State Research and Extension this week as we profile current students at Kansas State University who are former 4-H members, in celebration of National 4-H Week, Oct. 4-10.
Garrett Kays, Weir, Kansas, Wildcat District
Garrett Kays was a 12-year member of the Win-or-Bust 4-H Club, but the skills he learned have followed him much farther than the Crawford County line. Through the 4-H program, Kays showed sheep and beef cattle, but he also participated in leadership projects and conferences that allowed him travel the country and meet many "stellar" people. Now as a senior in agricultural economics at K-State, he's looking forward to a future in agricultural policy. Whether it's his home county, the K-State campus or Washington D.C., it is the passion he gained from 4-H that allows him to influence, motivate and positively impact others in whatever he does.
"I firmly believe that farmers and ranchers need a strong voice in our nation's capital, because policy decisions today may have large implications on producers in the future," Kays says. "I want to take my experiences and education from K-State and use them to work on public policy in the farmer's and rancher's best interest. Being involved in 4-H on a national and statewide level allowed me to think about 4-H and youth development on a larger scale. I was able to take the mindset of what is best for youth all across the U.S., not just in my community. 4-H taught me to have an impact, no matter where I go."
For more 4-H profiles, visit the K-State Research and Extension news blog.