September 3, 2015
Michael Kanost elected 2015 Entomological Society of America fellow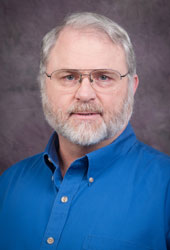 Michael Kanost, university distinguished professor of biochemistry and molecular biophysics and an ancillary professor of entomology, has been named a 2015 Entomological Society of America, or ESA, fellow. Election as a fellow acknowledges outstanding contributions to entomology research, teaching, extension or administration.
Kanost is internationally known for his research, which has focused on understanding how proteins in insect blood function in immune responses, the biochemistry of insect exoskeletons and functions of insect multicopper oxidases. He helped lead genome sequencing and annotation of the tobacco hornwom, Manduca sexta, which is an important model species for insect research.
Kanost's work has been supported with more than $17 million in grants from agencies such as the National Institutes of Health, the National Science Foundation and the U.S. Department of Agriculture. He has served as major professor for 23 doctoral and master's degree students and as a research mentor for 19 postdoctoral scientists and 42 undergraduate students while teaching numerous biochemistry courses. Kanost has authored more than 180 journal articles and book chapters, and his publications have been cited more than 10,000 times.
The Entomological Society of America was founded in 1889 and has nearly 7,000 members affiliated with educational institutions, health agencies, private industry, and government. 2015 fellows will be recognized at the society's annual meeting in November. Read the ESA's full announcement.