May 13, 2015
Area superintendent receiving Dan and Cheryl Yunk Excellence in Educational Administration Award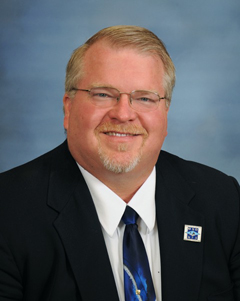 An area superintendent is this year's recipient of the prestigious Dan and Cheryl Yunk Excellence in Educational Administration Award.
Corbin Witt, superintendent of Geary County Schools, was selected for this honor. The Yunks were both exemplary teachers and administrators throughout their careers in the Manhattan-Ogden USD 383 school district. Established in their honor, this award recognizes the importance of educational administrators who establish environments that promote student learning.
Witt joined Geary County Schools in 2014. As the organization's chief executive, he is responsible for district budget preparation and management including federal impact aid, board of education relations, curriculum and instruction, negotiations, public relations, crisis management, and day-to-day district level leadership.
Witt's career began as a teacher in 1988 at Northview Elementary School in Manhattan, where he also became an assistant principal/lead teacher. In his next position, he served as principal at Sterling Grade School in Sterling. Witt moved to Atchison, where he was named principal at Atchison Elementary School from 1997-2001, after which he became the associate superintendent then acting superintendent of Atchison Public Schools.
From 2007-2014, Witt was the executive director of School Improvement for Salina Public Schools, a position he had until accepting the superintendent position in Junction City. Witt believes his experiences in small, medium and large school districts contributed to his growth and perspective as a leader. He is member of multiple state and national education-related organizations and actively engaged in service organization in his communities where he has lived.
Witt has earned three degrees from K-State: a bachelor's degree in elementary education; a master's degree in educational administration; and a doctorate in educational administration.