April 29, 2015
Blair named Ecological Society of America Fellow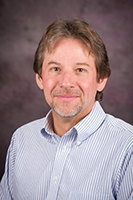 John Blair, university distinguished professor of biology in the College of Arts & Sciences, has been named a 2015 fellow of the Ecological Society of America.
Fellows are awarded based on excellence of contribution to research and discovery, communication and outreach, education and pedagogy, and application of ecology to management and policy.
As a terrestrial ecosystems ecologist and director of the Long-Term Ecological Research program at K-State's Konza Prairie Biological Station, Blair has been instrumental in documenting how human activities are altering the key drivers of ecological processes in grasslands. His primary research focus is on studies of nutrient cycling and plant productivity in grasslands and the ecological consequences of global changes in climate, land use, and nutrient deposition.
Blair has authored more than 100 journal articles and book chapters and has been supported by more than $38 million in grants.
The Ecological Society of America promotes ecological science is dedicating to promoting and supporting the discipline as well appropriate use of ecological science by policymakers. Ecology as a discipline concerned with relationships between organisms and their past, present and future environments.