April 24, 2015
Our Voices, Our Stories Art Gallery Reception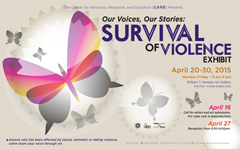 The Center for Advocacy, Response and Education, or CARE, invites all faculty, staff, students and alumni to Our Voices, Our Stories Art Gallery Reception from 5-6 p.m. Monday, April 27, in the K-State Student Union's William T. Kemper Art Gallery.
Our Voices, Our Stories features the work of individuals in the K-State community who have been affected by sexual and domestic violence. This gallery serves as a reminder that gender-based violence affects every community and we all have a part to play in supporting survivors and talking openly about the factors that allow violence to occur.
Join us for an evening of art, inspiration and conversation in support of survivors. Refreshments will be served.